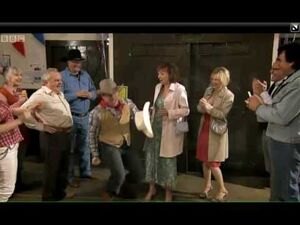 Ted is a middle aged resident of Barry and a friend of Bryn's. It was through Ted that Bryn was granted access to the hall to host Gwen's surprise birthday party. He appears in Series 2 Episode 5.
Personality and Traits
Edit
Ted is rather a windbag, Bryn had to scream in his face to get in him to be quiet in time to surprise Gwen when she arrived at her party.
Infatuation with Doris
Edit
Ted appears to be infatuated with Doris. Whilst it is implied that the may have had a relationship, she does not return the feelings, claims they were never 'exclusive' and sees Ted as a stalker who is always 'poking' her on Facbook and following her around Costcutters.