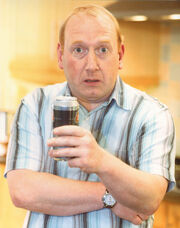 Peter Sutcliffe

Nicknames

Pete

Relatives

Hometown

Billericay, Essex

Friends

Portrayed by

Adrian Scarborough
Born around 1966 - 1968 Peter Sutcliffe is Mick Shipman's best friend. His wife, Dawn Sutcliffe, and he constantly fight. They are first introduced in episode 2 series 1 and is involved in every series afterwards.
In the christmas special (between series 2 & 3) he throws a punch at Dave Coaches, leading to a distinct frostiness between the two of them in later meetings.
In series 3, Pete and Dawn renew their wedding vows after Pete asked A.Q.A (Any Question Answered) if he should divorce Dawn. A.Q.A told him that "Yes he should divorce Dawn if he is not happy and believes that their relasionship isn't going anywhere. But they should try work on it first and divorce should be a last resort" So they decided to renew their vows.
Pete gets a huge "Puff Daddy" ring, according to Mick, with a P on the front. When it comes to the renewal wedding vows, Dawn shouts at Pete because of the ring right in the middle of their renewal ceremony, calling it "disgusting" and saying that he "looked ridiculous" wearing it. They were supposed to go to Barry with Mick and Pam on Bank Holiday Monday, however they had a huge row over the ring, after which Peter spent the night in the shed.
Trivia:
In series 1 it is stated that Pete is employed as a chartered surveyor, in series 2 it is stated he is a butcher.
Pete and Dawn have 2 children; 1 son and 1 daugher who serve as ring bearers at the renewal ceremony
In Series 1, the wedding table shows Dawn and Pete to have the last name Whitely